I don't know if I've mentioned here before that I produce a monthly illustrated essay for none other than Lion Brand Yarns. Have I mentioned that? Well, now I've mentioned that.
The
December edition
is newly up, and the topic is what to do when you're a knitter who doesn't feel like knitting. It's also about what to do when you're a weaver who doesn't want to weave, a crocheter who can't be bothered to pick up a hook, a tatter who is shuttle-weary, etc.
And right on schedule, it's the
Winter 2014 Knitty
. My "Stitches in Time" column for
this edition
offers for your consideration an 1880s pattern for a pair of gloves, along with thoughts on why knitting gloves is not difficult, and why you should. Also: thoughts on mid-Victorian knitted faux-ermine muffs, and why I won't.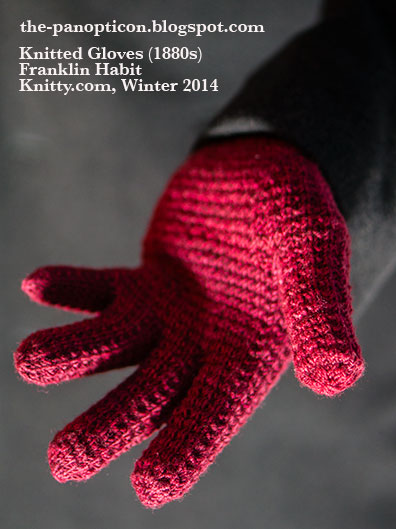 Ethel News
Sewing on Ethel's dress continues apace. The bodice is now complete except for the high collar, the hook-and-eye closures at the back, and of course the lace trim.
I haven't settled on tatting or knitting yet for the lace. There was a comment (I believe in jest) in the comments for the last entry that I do it in crochet...unless I subscribe to the notion that crochet is inherently ignoble.
For those of you who appear not to have caught the tone of that commenter's comment, I want to be perfectly clear that I
do not
hold any such ideas about crochet. In fact I am publicly on record in many places (
including one of my own columns
) as saying that I find the modern custom of keeping knitting and crochet in separate, armed camps is stupid. Neither do I believe one is superior to the other.
The lace won't be crocheted because at present I haven't got the chops to do it well at the required gauge. I'm learning, but I'm not up to crochet with thread just yet. The kind offers to do it for me are much appreciated; but to paraphrase Hotspur in Shakespeare's Henry IV, Part I, she's my dolly and I'm a grown man and I have to do the work.
Travel Knitting
I'm about to go on the trip that is, remarkably, not for work. I won't have Internet access for any of it, so this is the last entry until just before Christmas. The important packing is complete, which is to say I know which needlework is coming along. I'm particularly excited about what's going to happen to this...
It's Shibui Staccato (merino and silk fingering weight) in Blueprint and I would sit here and stare at it all afternoon if Ethel were not reminding me that she expects a skirt sooner rather than later.
See you in a few weeks, kids. Be good.