Thursday, December 25, 2014
Thursday, December 11, 2014
I don't know if I've mentioned here before that I produce a monthly illustrated essay for none other than Lion Brand Yarns. Have I mentioned that? Well, now I've mentioned that.
The
December edition
is newly up, and the topic is what to do when you're a knitter who doesn't feel like knitting. It's also about what to do when you're a weaver who doesn't want to weave, a crocheter who can't be bothered to pick up a hook, a tatter who is shuttle-weary, etc.
And right on schedule, it's the
Winter 2014 Knitty
. My "Stitches in Time" column for
this edition
offers for your consideration an 1880s pattern for a pair of gloves, along with thoughts on why knitting gloves is not difficult, and why you should. Also: thoughts on mid-Victorian knitted faux-ermine muffs, and why I won't.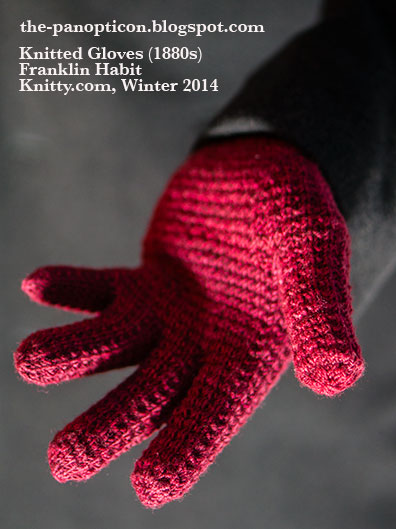 Ethel News
Sewing on Ethel's dress continues apace. The bodice is now complete except for the high collar, the hook-and-eye closures at the back, and of course the lace trim.
I haven't settled on tatting or knitting yet for the lace. There was a comment (I believe in jest) in the comments for the last entry that I do it in crochet...unless I subscribe to the notion that crochet is inherently ignoble.
For those of you who appear not to have caught the tone of that commenter's comment, I want to be perfectly clear that I
do not
hold any such ideas about crochet. In fact I am publicly on record in many places (
including one of my own columns
) as saying that I find the modern custom of keeping knitting and crochet in separate, armed camps is stupid. Neither do I believe one is superior to the other.
The lace won't be crocheted because at present I haven't got the chops to do it well at the required gauge. I'm learning, but I'm not up to crochet with thread just yet. The kind offers to do it for me are much appreciated; but to paraphrase Hotspur in Shakespeare's Henry IV, Part I, she's my dolly and I'm a grown man and I have to do the work.
Travel Knitting
I'm about to go on the trip that is, remarkably, not for work. I won't have Internet access for any of it, so this is the last entry until just before Christmas. The important packing is complete, which is to say I know which needlework is coming along. I'm particularly excited about what's going to happen to this...
It's Shibui Staccato (merino and silk fingering weight) in Blueprint and I would sit here and stare at it all afternoon if Ethel were not reminding me that she expects a skirt sooner rather than later.
See you in a few weeks, kids. Be good.
Posted by

Franklin
at Thursday, December 11, 2014
297 comments:


Thursday, December 04, 2014
Remember Ethel?
You may or may not, it's been a while since I wrote about her.
She came into my life via a tray of miscellaneous junk at a flea market, lacking everything from the waist down.
But I took care of that
.
So she was entire, but naked. I decided to dress her, starting with a
linen-and-lace petticoat
.
Then things got busy, and Ethel has been sitting around in just her underwear since then. She hasn't complained as such, but the look on her face speaks volumes.
Happily, my friend and collaborator
John Mullarkey
threw me a sewing challenge. He has a long-delayed shirt that needs to be finished. I have a doll who is threatening to telephone the ASPCD and turn me in for neglect. Let's cheer each other along, he said. Fine, I said. So out came the needles and thread.
We began well.
I want to sew something reasonably appropriate–with two disclaimers.
First, I'm not producing miniature clothing (i.e. correct in all aspects, perfectly to scale). I'm making a dress for a doll, rather as Ethel's original owner might have. (Serious Doll People will recoil. With no disrespect to them, I am not a Serious Doll Person.)
Second, for this project I'm not fussing and fretting over perfect period (c. 1900) detail. Ethel probably "should" be in a shirtwaist with pin tucks and certain other details,
but I know myself well enough to understand that if I begin this project with research, I'll never cut anything out. I will bog down, debate, and prevaricate. This is supposed to be a sewing exercise, not a trip to the library.
And I don't especially feel like sewing a shirtwaist. This dress is largely an excuse to make more thread lace (probably tatted and knitted) and stick it on something.
Anyhow, I drafted the bodice and sleeves (yes, I use paper towels) and felt pretty good about the results. Flat pattern making is new ground for me.
Then, after a deep breath, sewing.
I enjoy hand sewing, but most of my training was under the stern eye of my late grandmother. She was a tailor. When I helped her I was usually working on tailored clothing, so there are certain weird gaps in my education–like gathering. Not a lot of gathers in man's suit. Ethel's full sleeve caps require gathering.
I swore a lot, but I finished the sleeve cap and it didn't look half bad. After a day off, I sat down with second sleeve. Marked, gathered, pinned. Sewed.
It was so much easier the second time! About forty minutes from start to finish, and so uneventful that I actually thought as I made the last few stitches,
"Well, so much for having an amusing tale to post on the blog."
Because you know, projects that go well are never funny.
I clipped the final thread, turned the piece right-side out, and realized I had sewn the second sleeve into the same armscye as the first sleeve.
I sewed two sleeves into the same armscye.
And didn't realize it until I was finished.
You really can't fudge that with ironing.
Rip, rip, rip.
We are in a better place now, but Ethel is still giving me That Look.
She sure throws a lot of attitude for somebody who was fished out of a junk tray at a flea market.
Posted by

Franklin
at Thursday, December 04, 2014
129 comments: